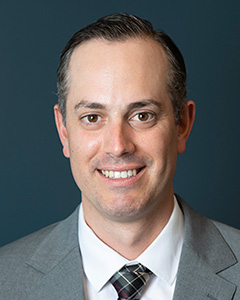 Credentials
Undergraduate Education:
Johns Hopkins University; Baltimore, MD
Medical School:
Robert Wood Johnson Medical School, Rutgers University; Piscataway, NJ
Residency:
Lahey Hospital & Medical Center; Burlington, MA
Urology Residency:
Lahey Hospital & Medical Center; Burlington, MA
Dr. Marc Calabrese's Bio
Dr. Calabrese grew up along the shore in New Jersey. He attended Johns Hopkins University where he graduated with honors with a degree in neuroscience. He returned to New Jersey to attend Robert Wood Johnson Medical School at Rutgers University. He completed his urologic surgical training at Lahey Hospital & Medical Center's Institute of Urology outside of Boston, MA.
During his training Dr. Calabrese led both clinical and laboratory research and is an author of several peer-reviewed journal articles. He has presented this research at annual meetings.
Dr. Calabrese is interested in minimally invasive techniques to treat urologic cancers and complex kidney stone disease. His interests also include men's health including benign prostate conditions, infertility and erectile dysfunction.
In his free time Dr. Calabrese enjoys fly fishing, hiking, playing guitar and spending time at the beach. He lives in southern Maine with his wife and dog.
Interests
Urologic cancers
Stones
Men's health
What Our Patients Say About Marc Calabrese