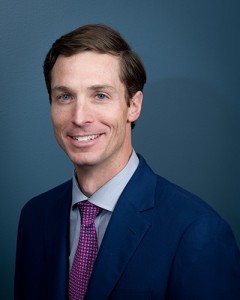 Credentials
Undergraduate Education:
University of Delaware; Newark, DE
Medical School:
Jefferson Medical College, Thomas Jefferson University; Philadelphia, PA
Residency:
Brigham & Women's Hospital; Boston, MA
Urology Residency:
Harvard Program in Urology (Longwood)
Dr. Gregory Adey's Bio
Dr. Adey was born and raised in Philadelphia, Pennsylvania. He attended the University of Delaware and then medical school at Jefferson Medical College in Philadelphia. He completed his surgical and urologic training with the Harvard Program in Urology. This is a combined training program at Brigham and Women's Hospital/Dana Farber Cancer Institute, Beth Israel Deaconess Medical Center, and Children's Hospital Boston. Following training, he moved to Maine and has been in practice in Portland since 2005.
Dr. Adey was selected for–and completed–the AUA Leadership Program. The leadership program fueled his interest in health policy. Dr. Adey is currently the Treasurer ­Elect of the New England Section of the American Urologic Association (AUA) and Chairman of the Socio­Economics Committee. He has previously served as a member of the Legislative Affairs Committee and Health Policy Council for the AUA, and as the Maine State Representative to the Board of Directors of the New England AUA. Dr. Adey has been a member of the Board of Directors of the New England AUA since 2009.
Dr. Adey is Board Certified by the American Board of Urology and received his 10-year re­certification from the Board. Dr. Adey is a Fellow of the American College of Surgeons (FACS) and a member of the American Association of Clinical Urologists (AACU). He is also a member of the Alpha Omega Alpha Medical Honor Society, and the recipient of the Pfizer Outstanding Scholar in Urology Award and the Gerald P. Murphy – American Urologic Association Scholar Award. He has published multiple articles in medical journals and book chapters, and Dr. Adey has given numerous presentations at local and national meetings.
Dr. Adey's specialties include the treatment of all types of urologic cancers, kidney stones, erectile dysfunction, benign prostatic hypertrophy (BPH), and fertility issues. He performs in-­office, no scalpel vasectomy (NSV), as well as GreenLight laser vaporization of the prostate (PVP).
Dr. Adey lives locally with his wife and their three children.
Interests
Urologic cancers
Kidney stones
Erectile dysfunction
Male voiding dysfunction
Infertility
Vasectomy
What Our Patients Say About Dr. Gregory Adey
"About 18 months ago I was diagnosed with Bladder cancer. My Urologist is Dr. Gregory Adey and he has been helping me all through this process. After the initial diagnosis he carefully explained to me what he was going to do to help me. Everything Dr Adey discussed with me and my wife has been working like clockwork. He always puts me at ease and is very careful to reduce any pain with my procedures. I am amazed and grateful for his knowledge, attitude and professionalism. In addition to his superb work with me, I must also add that his staff are some of the finest as well. The nurses add to his excellent work, the Nurse Practitioner echoes my superb care and the rest of the office from receptionists to the person that schedules future appointments are incredibly efficient and always a pleasure to work with and expand on the terrific care I always get there. I am so grateful to Dr Adey and his entire staff for the care, treatment and understanding they all provide. When I was first diagnosed with this cancer I felt like my world was falling apart, but with the care and understanding from Dr. Adey's entire staff I feel that my world is being restored. Thank you Dr. Adey for being there for me."
D.M. (South Portland, Maine)
"I felt fortunate to have Dr. Adey as my urologist and surgeon. His personable, caring attitude and evident knowledge and skill gave me confidence that I was receiving the best care possible."
"Words will never be enough to express the level of technical expertise, skill and compassion I received from Dr. Adey during one of the scariest times of my life. My wife and I admire and trust him with our lives as we understand he saved my life. We are and will always be forever grateful."